Join Us October 10th 6-7:30 for our Annual Meeting!
Capt Carl Marshburn and Crew have invited us aboard THE BARGE at the River Grill located at 101 S. Water Street for our annual meeting.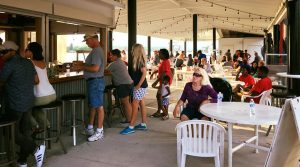 We will have our voting for open board positions.  Ballots will be emailed with our October 3rd newsletter.  Proxy voting is allowed if you cannot attend the meeting.
Survey One Results
All Responses (download PDF)
Data Tables (download PDF)
♦♦♦♦
Visit the MEMBER Page to JOIN Today! 
Mission Statement:
The Downtown Business Alliance of Wilmington is a non-profit organization whose mission is to unite, promote,& support the Downtown Wilmington community. We are a membership-based organization that, through civic activism, annual special events,& corporate sponsorship, are able to help make downtown a viable & attractive community for residents, business owners & visitors.
DBA and Market Resource One present on October 15th 2016

October 15th from 10am-6pm of this year Wilmington will celebrate the skills and talent of craftsmen from around the Wilmington region by hosting a day long Art Walk in historic downtown at the culmination of American Craft Week Wilmington.  American Craft Week is a nationally established effort to build awareness of the Arts, Craft and Culture in America founded by CRAFT.org, a non-profit.  Wilmington's robust culture for the arts in many forms throughout the greater Wilmington area is perfect to be highlighted under the national effort and brand of American Craft Week.