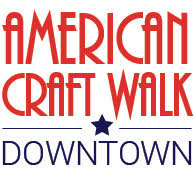 Presented by the Downtown Business Alliance, and organized by festival owners Joan and Mike Loch, the 3rd Annual American Craft Walk Wilmington (ACWW) is set to take over Front Street on Saturday, September 22 from 10 am – 5 pm.  The booths will alternate along both sides of Front Street from Orange Street on the south side to Walnut Street on the north side.  The more than half mile route will feature approximately eighty vendors, showcasing the work of the region's finest craftsmen and artists. The American Craft Walk Wilmington information booth will be located at Front and Market.  In addition, attendees can get access to event maps and information before and during the event through an interactive app.
ACWW benefits three non-profits by providing complimentary booth space to promote their missions; Freedom Fidos, Kids Making It and the Wilmington Area Woodturners Association.
Sponsors include Platinum Sponsor PowerUp Design, Gold Sponsors Art in Bloom Gallery, WHQR, Downtown Business Alliance, ProjectBox Media, theArtWorks, Bon's Eye Marketing, Cumulus Broadcasting, The George on the Riverwalk, Wilmington Chalk Art, Silver Sponsor Thalian Association Community Theatre and Bronze Sponsor Freedom Fidos.